Person-Centered Alzheimer's and Dementia Care in Winston-Salem, NC
– Reflections at Homestead Hills –
Reflections is an industry leading person-centered approach to Memory Care. Focusing on social, wellness and mental engagement, we meet loved ones where they are.
At Homestead Hills, we understand the incredible burdens brought on by Alzheimer's and dementia—for the person with the disease, their friends and their family. For the person with Alzheimer's or dementia, it can be heartbreaking to start forgetting things that used to come so easily. For friends and family, caring for their loved one can take a toll both mentally and physically.
While we can't control life's challenges or reverse the course of memory-impairing illnesses, Memory Care through Reflections at Homestead Hills can help ease the burdens. Our Winston-Salem Memory Care community provides expert care in an environment where Members can thrive.
Because of our years of experience, our focus on family engagement and the person-centered care we provide, moving your loved one into Reflections at Homestead Hills has the potential to be lifechanging. Industry-leading care is provided by a team of Certified Dementia Practitioners—professional caregivers who assist Members in their day-to-day lives and engage them in activities to stimulate the mind. Members benefit from luxury facilities that are specially designed by experts in Alzheimer's and dementia.
The best way to get a full sense what Reflections has to offer is by taking a tour of our community. To book your tour, simply click the button below and fill out our online form. If you have any questions or would like to speak with us over the phone, don't hesitate to give us a call at the number below.
National Team Member of the Alzheimer's Association
Homestead Hills is a proud member of the Alzheimer's Association National Team. Each year we hold multiple events including the annual Walk to End Alzheimer's, to raise money & awareness to combat this terrible disease. We are not only focused on providing the best care for those afflicted by Alzheimer's, but on ending this terrible disease. If you want to participate or donate to the Alzheimer's Association, click this link to their official website for more information.
Gallery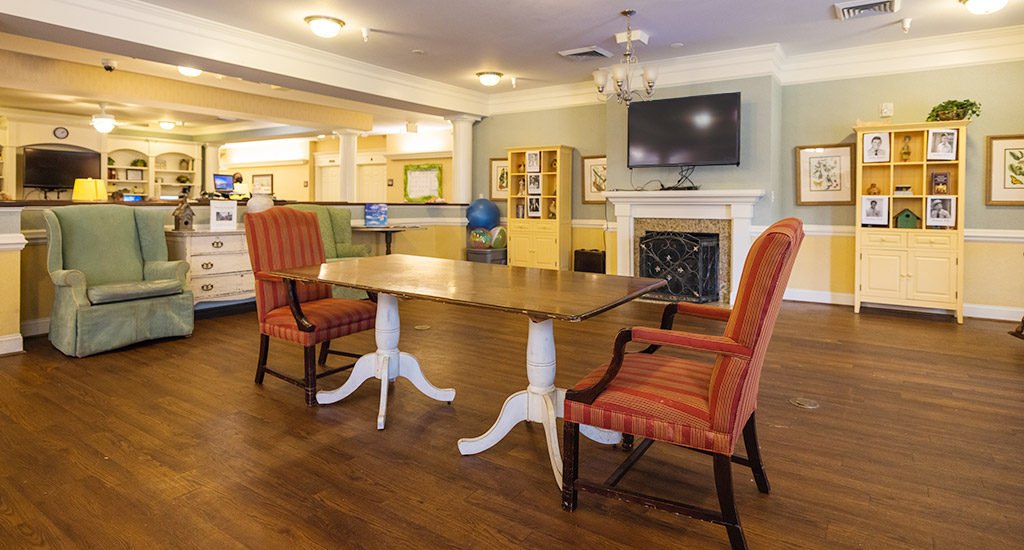 View Full Gallery
Specialized Dementia Training
It is important to have the necessary tools to provide for people with dementia. That is why our team members in Reflections are Certified Dementia Practitioners™. Dementia is one of the hardest diseases to effectively manage, and if you are not properly trained it's nearly impossible to provide great care.
Certification Topics:
Activities
Environment
Staff and Family Support
Diversity and Cultural Competence
Depression and repetitive behaviors
Spiritual Care and End of Life Issues
Paranoia, Hallucinations, Wanderings & Hoarding
Aggressive Behaviors, Catastrophic Reactions, Intimacy & Sexuality
Personal Care: Pain, Bathing, Dressing, Toileting, Nutrition, Falls & Sleep Disturbance
All-Inclusive Monthly Pricing
We believe that you shouldn't have to worry about various "levels of care" or "points" charges, which are popular at many Memory Care communities. Under this type of pricing model, your rate could increase at any moment, without any notice, just because you receive more care. Reflections at Homestead Hills charges one all-inclusive monthly fee, which includes all of your care, no matter how much you need. That's because we want billing to be the least of your worries.
At our community, you pay one rate for all your care while in Memory Care.
Memory Care Floor Plans
The Mandarin | 592 sq. ft. | 2 Room Suite 1 Bath
The Beverly | 296 sq. ft. | 1 Bed 1 Bath
How Memory Care Works
Memory Care through Reflections at Homestead Hills offers numerous benefits that you can't get from non-specialized living options. Our Memory Care facilities are specially designed by experts in Alzheimer's and dementia to be an ideal living environment for the Members we serve. They offer floor plans that are easily maneuverable, plenty of sunlight to promote well-being and secured doors so that Members with symptoms of wandering are kept safe.
Our community stands out even more because of its high level of luxury. The vibrant common areas as well as spacious and elegant accommodations provide a great setting for Members to enjoy time with their friends and family. No matter what their condition, a living space should bring Members joy, and our community is built with this goal in mind.
Living at our Memory Care community means access to a team of caregivers who are all specially trained and certified in Alzheimer's and dementia care. Our caregivers have years of experience and in-depth knowledge about memory-related illnesses, which allows them to provide expert care geared toward each Member's specific needs. Part of what they do is engage Members in mentally stimulating activities based around memory, reasoning and information processing, which have been shown to help maintain mental acuity and slow the progression of symptoms.
Caregivers also assist Members in general areas where they have difficulty, which might include help getting dressed, assistance with eating, reminders of upcoming family visits, medication management and more. Members of our community are at various stages of Alzheimer's and dementia, and each person has a unique set of needs. The care we provide is personalized to each individual, with a focus on minimizing stress and promoting a sense of purpose and dignity.
WAVES
WAVES received the Best of the Best Award from Argentum, the nation's largest senior living association, celebrating its outstanding achievements in Alzheimer's programming. WAVES is an aquatic-based experience, led in our heated indoor therapy pool, giving our members a safe and fun way to exercise.
The combination of warm, therapeutic water and low-impact aerobic activity can reduce anxiety and stress while providing a healthy outlet for excess energy.
Members who participate in the program may enjoy improved strength & balance, appetites, better sleeping patterns and a stronger bond with their caregivers.
We do things differently here, and we don't settle for ordinary outcomes.
We believe everyone can live a higher quality of life with wellness.
Customized, Person-Centered Dining
Depending on the stage of Alzheimer's or dementia they are at, Members can have a wide variety of dietary needs. Because of this, we offer a range of dining options. Some Members have very little difficulty eating and can be given traditionally-prepared food, while others need more adaptive options such as bite-sized or pureed portions.
Our community's onsite dietician assesses the needs of each Member and creates them a customized dining and nutrition plan. When it comes to this lifelong task that brings so many dementia patients difficulty, Reflections at Homestead Hills seeks to bring the joy back to eating.
Memory Care Services and Amenities
Reflections at Homestead Hills offers the following Memory Care services and amenities:
Person-centered care in a luxury apartment home
A curated social and dining lifestyle that encourages families to visit often
An all-inclusive, transparent pricing model that's easy to understand and allows our families to plan long-term
A continuum of Care Services under one roof so future moves can be avoided
Medication management
Wellness classes and programs
Personal transportation
24-hour emergency call system
Professional hair care salon
Living With Alzheimer's and Dementia
A Blog Series
Understanding that your loved one may have a form of dementia can be a difficult and trying time. While there is no single test that can diagnose a person, it's vital to identify and become aware of the symptoms attributed to dementia. There are various cases of dementia and on average, Alzheimer's accounts for 60 to 80 percent of cases, while Vascular dementia (which occurs after a stroke) is the second most common form.
To learn more about dementia care, check out our blog series covering everything from Identifying Alzheimer's to Making a Successful Transition into Memory Care.
Get Started
Are you interested in Memory Care at Homestead Hills? Would you like to learn more? Give us a call at 336-448-2440 to speak with a lifestyle advisor or schedule an appointment. We hope to hear from you soon!